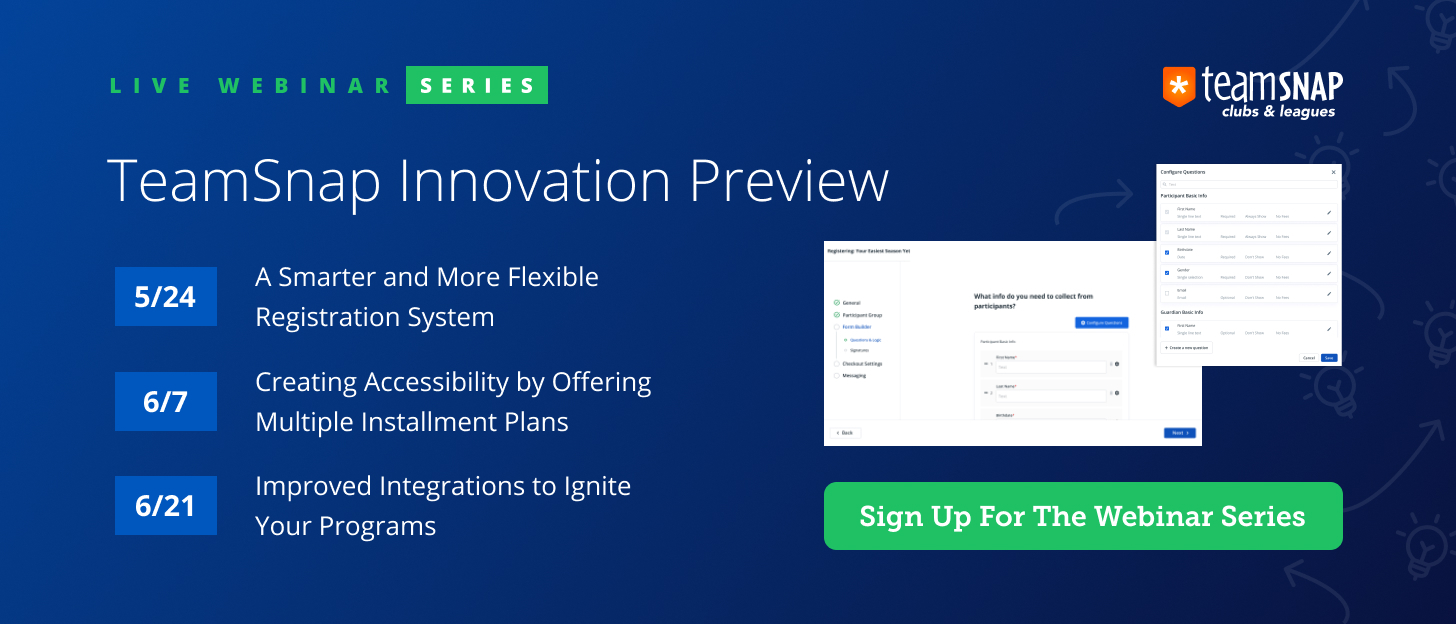 DATE:

AUTHOR:

TeamSnap Team
Payments
Registration
Communications
Permissions & Security
Reporting
Member Management
Coaches & Managers
WEBINAR SERIES: TeamSnap Innovation Preview
DATE:
AUTHOR: TeamSnap Team
TeamSnap is launching a new webinar series, starting May 24th, to give valued customers a behind-the-scenes look at our upcoming innovations. See soon-to-be released and new technology built from product feedback, customer requests, and cross-industry research. 
The first session on May 24th, "A Smarter and More Flexible Registration System", will look at the flexibility and intelligence of our upcoming registration capabilities. 
During this webinar, you will learn:
About our brand new advanced logic capabilities 

How you can reduce the time you spend in registration creation

How family experiences will be improved 

How fees and registration sessions can be shared intuitively.
The next session, "Creating Accessibility by Offering Multiple Installment Plans", will be on June 7th. Session 2 will be on how TeamSnap's next-generation installment features can increase access to your programs & fight rising program costs.
Then on June 21st, Improved Integrations to Ignite your Programs, will demonstrate how you can spend less time in spreadsheets, and more time on the field with TeamSnap's new seamless, multi-program integration capabilities.  
Join us on May 24th, 2023 at 1:00 p.m ET/ 11 a.m MT to hear from our product leaders and to ask your questions. Register here.